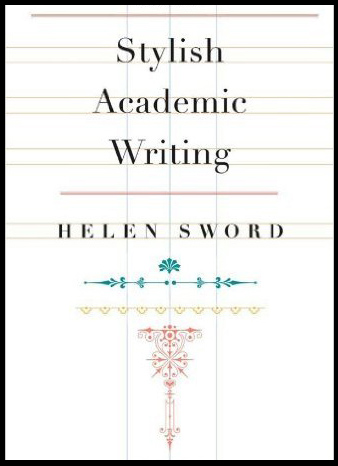 Quick. Name an academic article you've recently read that was engaging and well written. One that left you intrigued, delighted, and wanting more. Having a hard time? It's understandable. Academic writing is full of dry, uninspiring, stilted prose that sucks the life out of a topic.
But there are authors in every discipline who write articles that are a delight to read, presenting solid research clearly and elegantly. These writers, few though they may be, produce classics in their field often quoted and assigned. Why are these the outliers and not the norm? This is the fundamental question Helen Sword asks in her 2012 book Stylish Academic Writing.
Sword, frustrated by the dreadfully boring articles she found in her own field of education, launched a two-pronged study to try and understand why academic writing is the way it is. First, she surveyed 70 plus academics from different disciplines to identify "the characteristics of 'stylish academic writing' in their respective fields" (7). Then she analyzed the books and articles identified as exemplary pieces of writing. Using all this information, she compiled a list of the characteristics of stylish academic prose:
Interesting, eye-catching titles and subtitles;
First-person anecdotes or asides that humanized the authors and give the text an individual flavor;
Catchy opening paragraphs that recount an interesting story, ask a challenging question, dissect a problem, or otherwise hook and hold the reader;
Concrete nouns (as opposed to nominalized abstractions such as "nominalization' or "abstraction") and active, energetic verbs (as opposed to forms of be and bland standbys such as make, find, or show);
Numerous examples, especially when explaining abstract concepts;
Visual illustrations beyond the usual Excel-generated pie charts and bar graphs (for example, photographs, manuscript facsimiles, drawings, diagrams, and reproductions);
References to a broad range of academic, literary, and historical sources indicative of wide reading and collegial conversations both within and outside their own fields;
Humor, whether explicit or understated. (p. 8)
Sword then put together a data set of 1000 articles from across the sciences, social sciences, and humanities to identify disciplinary writing styles. Using that dataset, she compared the characteristics she found with the advice given in some 100 contemporary writing guides. Sword's finding was that "wordy, wooden, weak-verbed academic prose" had "few if any explicit advocates but vast armies of practitioners" (10). Sword doesn't waist time lamenting how this happened. Instead she presents the antidote in the form of advice and examples. Part 2 of the book is a writing guide focusing on the Elements of Stylishness which she presents through eleven touchstone writing strategies:
Voice and Echo
Smart Sentencing
Tempting Titles
Hooks and Sinkers
The Story Net
Show and Tell
Jargonitis
Structural Designs
Points of Reference
The Big Picture
The Creative Touch
Each chapter ends with a list of writing activities aimed at helping you improve your writing by showing you how to have your writing engage with your reader. Or, using the metaphor she adopts from Peter Elbow, "You must walk up to the readers and say, 'Let's go for a ride. You pedal, I'll steer.'" [Peter Elbow, Writing with Power: Techniques for Mastering the Writing Process. Oxford: Oxford University Press, 1981: 351.]
Sword, a stylish writer herself, has written a writing guide that every academic writer should read and study, not merely buy and place on a bookshelf.
Next time you read a brain numbing academic article, remember that academic writing doesn't have to be bad. Nowhere is it written that good writing is unacceptable in the Academy. As Sword argues, "elegant ideas deserve elegant expression" (vii). It's time to make boring writing unacceptable by demanding brilliance in the form of stylish academic writing.