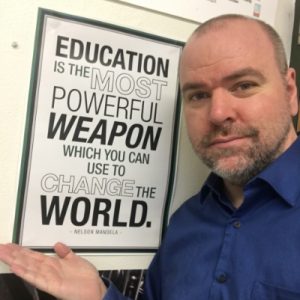 Craig A. Meyer, PhD
Craig A. Meyer earned his PhD from Ohio University with a focus on Rhetoric and Composition. He earned two master's degrees from Missouri State University: Composition and Rhetoric and Creative Nonfiction. His research is diverse and covers many areas such as ethos, histories of rhetoric, dysfluency studies, creative writing, political discourse, and corruption in higher education. He's published numerous articles and book chapters in various disciplines, but he's drawn to popular culture projects that expand on our understanding of the Star Trek universe. He's also a teacher/scholar with many presentations and workshops. Part of his skillset focuses on the pragmatics of writing and comprehension as well as the mental and emotional toll of scholarly work. He's also edited and indexed several books, been a peer reviewer for national journals, and a tutor in writing centers. 
Languages: English
SELECTED PUBLICATIONS
Refereed Publications
Review of Living on the Land: Indigenous Women's Understanding of Place. Eds. Nathalie Kermoal and Isabel Altamirano-Jimenez, for American Indian Quarterly (AIQ) 45.3. Summer 2021.
"Taking Lessons from Silent Spring: Using Environmental Literature for Climate Change" in Literature 1.1. (2021) https://doi.org/10.3390/literature1010002.
"Understanding Student Needs During a Pandemic" in Double Helix (vol. 8). (Jan. 2021)
"The Evolution of Imitation: Building Your Style" in Writing Spaces, vol. 3. (Apr. 2020) <https://writingspaces.org/node/1715>.
"From Wounded Knee to Sacred Circles: Oglala Lakota Ethos as 'Haunt' and 'Wound'" Humanities 8.1 (2019): 36. <https://dx.doi.org/10.3390/h8010036>.
"Positioning Ethos in/for the Twenty-First Century: An Introduction to Histories of Ethos." (co-authored with James S. Baumlin) Humanities 7.3 (2018): 78. <https://doi.org/10.3390/h7030078>.
"Corruption, Higher Ed, and Russians (Oh My!)"  The CCCC-IP Annual: Top Intellectual Property Developments of 2016. June 2017.
"Why We Dread Disability Myths" (co-authored with Tara Wood and Dev Bose.) in Chronicle of Higher Education. May 2017.
"The Power of Dominant Narratives: Palestinian Self-Awareness and a Tutoring Challenge" in The Dangling Modifier, Fall 2016.
Review of The Technology of Nonviolence: Social Media and Violence Prevention, by J. G. Bock in Technoculture: An Online Journal of Technology in Society, volume 5. Fall 2016.
"A Prince, Some Girls, and the Terms: A Canary in the Cave?" The CCCC-IP Annual: Top Intellectual Property Developments of 2015. March 2016.
"Working in Academe and Paying Attention to Disability: Faculty Members, Accommodation, and Access in Higher Education." (Co-authored with S. Kerschbaum, R. Garland-Thomson, A. Vidali, S. Oswal, S. Ghiaciuc, M. Price, J. Dolmage, and B. Brueggemann.) Profession, 2013. Web.
"The Option Not to Act: The Dissertations of Boening and Meehan." The CCCC-IP Annual: Top Intellectual Property Developments of 2009, March 2010. Web.
Books and Chapters

Histories of Ethos: World Perspectives on Rhetoric. Co-edited with James S. Baumlin. MPDI (2021).
"Cognitive Differences in Star Trek: The Case and Evolution of Reginald Barclay" in Normalizing Mental Illness and Neurodiversity in Entertainment Media: Quieting the Madness. Eds. Malynnda Johnson and Christopher J. Olson. Routledge. (April 2021)
"Disabling Resistance: Voyager and Federation Ideology" (co-authored with Daniel Preston) in Exploring Star Trek: Voyager: Critical Essays, McFarland, Critical Edition. (April 2020).
"Chapter 1: Digging In" (co-authored with Ti Macklin and Patricia Ericsson) and "Chapter 2: Defining It—Terms and Definitions" (co-authored with Kefaya Diab, Mark Shealy, Aaron Barlow and Patricia Freitag Ericsson) in Sexual Harassment and Cultural Change in Writing Studies. Edited by Patricia Freitag Ericsson. WAC Clearinghouse. (April 2020)
Let's Work Together!
Schedule Your Free 30 Minute Initial Consultation
About Us
A boutique consulting firm with seasoned academic writing professionals who can help you with all aspects of writing and researching your dissertation.
Our Services
Developing and researching your project
Drafting and writing the academic project
Breaking through writer's block
Editing and formatting the document
Managing the process
Working with a dissertation committee
Turning dissertations into articles and books
Getting published