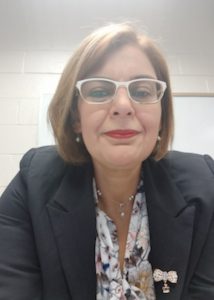 Lilian Mina, PhD
Lilian Mina has a Ph.D. in Composition and TESOL from Indiana University of Pennsylvania, an MA in TESOL from the American University in Cairo, and a Certificate in Teaching Business Writing from University of South Carolina. She researches digital writing, especially multimodal composing and using social media in the writing classroom, and multilingual student writers. She has experience with qualitative, mixed-method, and digital research methods. She has extensive experience teaching graduate and undergraduate students, working with multilingual students, and supervising graduate theses and portfolios.  Lilian enjoys mentoring junior scholars by helping them a) understand and be comfortable with their writing style, b) deconstruct their writing situation, including purpose, audience, and genre, c) set writing goals that fit their style and the current writing situation, and d) create a feasible plan to achieve those goals successfully.  Lilian has won awards in teaching, research, and professional development from Indiana University in Pennsylvania. Her work appears in edited collections from Computers and Composition Digital Press, the WAC Clearinghouse, and Utah State University Press, and in journals, such as Computers and Composition and Composition Forum. She reviews submission to a number of academic journals and national conferences.
Languages: Arabic and English
Lilian was an excellent writing coach. She quickly understood my project and the standard of quality that I wanted to achieve with my work so that she could provide very targeted leadership. I am grateful for the depth of experience and genuine care.
Lynne Krishna
SELECTED PUBLICATIONS
Mina, Lilian W. "From Editors with Love… or Maybe Not So Much!" Explanation Points! Publishing in Rhetoric and Composition, edited by John R. Gallagher and Danielle Nicole DeVoss, Utah State University Press, 2019, pp. 244-247.
Mina, Lilian W. "Analyzing and Theorizing Teachers' Approaches to Using New Media Technologies." Computers & Composition, vol. 52, 2019, pp. 1-16.
Mina, Lilian W. "The Archive as Intervention for Teaching Reflection." The Archive as Classroom: Pedagogical Approaches to the Digital Archive of Literacy Narratives., edited by Kathryn Comer et al., Computers and Composition Digital Press/Utah State University Press, 2019, https://ccdigitalpress.org/book/archive-as-classroom/narrative1.html
Buck, Amber M. and Lilian W. Mina. "Critical Rhetorical Analysis of Social Media Sites." Kairos: Rhetoric, Technology, and Pedagogy, vol. 23, no. 2, 2019, http://praxis.technorhetoric.net/tikiindex.php?page=PraxisWiki%3A_%3ACr itical_Rhetorical_Analysis_of_Social_Media.
Mina, Lilian W. et al. "Google, Baidu, the Library, and ACRL Framework: Assessing Information-Seeking Behaviors of First-Year Multilingual Writers through Research-Aloud Protocols." Teaching Information Literacy and Writing Studies: Volume 1 First-Year Composition Courses, edited by Grace Veach, Purdue University Press, 2018, pp. 251-267.
Mina, Lilian W. "Social Media in the FYC Class: The New Digital Divide." Social Writing/Social Media: Publics, Presentations, and Pedagogies, edited by Douglas M. Walls and Stephanie Vie, The WAC Clearinghouse and University Press of Colorado, 2017, pp. 265-284.
Mina, Lilian W. and Janice R. Walker. "International Students as Future Scholars: Information Literacy Skills, Self-Assessment, and Needs." The Future Scholar: Researching and Teaching the Frameworks for Writing and Information Literacy, edited by Randall McClure and James P. Purdy, The Association for Information Science and Technology, 2016, pp. 63-87.
Mina, Lilian. "Constructing and Shifting Identity of Graduate Multilingual Writers in an Online Environment." REx1: The Research Exchange Index, 2016, http://rex1.comppile.org/search/full_report.php?EntryID=54.
Mina, Lilian W. "Enacting Identity through Multimodal Narratives: A Study of Multilingual Students." Digital Literacies in Foreign Language Education, edited by Janel Guikema and Lawrence Williams, CALICO, 2014, pp. 141- 158.
Mina, Lilian W. et al. "Class-Based Research in the English Composition Class." Perspectives on Undergraduate Research and Mentoring (PURM), vol. 3, no. 1, 2013, http://blogs.elon.edu/purm/2013/10/17/cbr-inenglish-comp/.
Mina, Lilian. "Analysis of an Audio Biography." New Ways in Teaching Writing, Revised, edited by Denise C. Mussman, TESOL International Association, 2013, pp. 132-134.
Mina, Lilian. "Me and Technology Literacy Slideshow." New Ways of Teaching Writing, Revised, edited by Denise C. Mussman, TESOL International Association, 2013, pp. 135-137.
Mina, Lilian. "Rhetoric of Place: Pedagogy of Sustainability in the Technical Writing Class." The International Journal of Sustainability Education, vol. 8, no. 3, 2013, pp. 41-50.
Farag-Allah, Lilian W. "Corpus-Based Approach to Logical Connectors." Proceedings of the 14th TESOL Arabia Conference: Finding You Voice; Critical Issues in ELT, edited by M. Al-Hamly et al., TESOL Arabia, 2009, pp. 245-255.
Farag-Allah, Lilian W. "Electronic Feedback: Is It Beneficial for Second Language Writers?" Teaching English with Technology, vol. 8, no. 3, 2008, http://www.tewtjournal.org/VOL%208/ISSUE%203/ARTICLE.pdf.
Forthcoming Peer-Reviewed Articles and Book Chapters
Mina, Lilian W. "Technology Professional Development of Writing Faculty. Composition Forum. [Accepted for publication in the spring 2020 issue]
Mina, Lilian W. and Tony Cimasko. "Expectations, Mismatches, and the Teaching of Second Language Writing: A Program-Wide Survey." Translingual Dispositions: The Affordances of Globalized Approaches to the Teaching of Writing, edited by Alanna Frost et al., WAC Clearinghouse.
Let's Work Together!
Schedule Your Free 30 Minute Initial Consultation
About Us
A boutique consulting firm with seasoned academic writing professionals who can help you with all aspects of writing and researching your dissertation.
Our Services
Developing and researching your project
Drafting and writing the academic project
Breaking through writer's block
Editing and formatting the document
Managing the process
Working with a dissertation committee
Turning dissertations into articles and books
Getting published