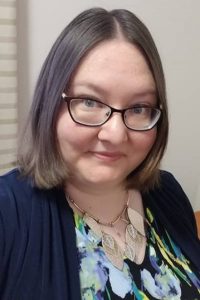 Lynn Reid, PhD
I most enjoy working with academic writers to develop clear textual cues to guide their readers through a piece of writing, clearly linking scholarly research with a project's goals, and planning all the phases of a writing project. I am available to coach any stage of a project, but I particularly enjoy helping a writer step into their readers' shoes and clearly communicate the purpose of particular sections of a text. Another aspect of coaching writing that I see as my specialty is helping a writer determine the research that best suits the needs of a particular project. If you are looking for support in any of these areas, please request me when you contact Defend & Publish.
---

ABOUT: Lynn Reid holds a PhD in English Composition and Applied Linguistics from Indiana University of Pennsylvania and a certificate in TESOL from Rutgers University. Lynn's dissertation work and related publications focus on graduate education and methods for disciplinary reading in graduate study. She has been teaching college-level writing since 2007 and has worked extensively with graduate students as both an instructor and a writing tutor. Lynn has extensive experience working with multilingual writers, including the coordination of a weekly writing workshop for doctoral-level anthropology students at Rutgers in 2012. She also regularly serves as a mentor to graduate students at the Computers and Writing and CCCC Conferences. Lynn has won awards for teaching (from City College of New York), research and scholarship (from Indiana University of Pennsylvania and Kairos: A Journal of Rhetoric, Technology, and Pedagogy), and service (from Kairos), and she has served as the co-chair of the Council on Basic Writing, a national CCCC standing group. Her work has appeared in collections from Computers and Composition Digital Press, Kairos, Journal of Basic Writing, and WPA Journal and she regularly reviews for disciplinary conferences and journals. Lynn has expertise in qualitative research methods and she enjoys working with writers at all stages, from designing a study to final copy edits.
Languages: English; Spanish (conversational, reading, and writing)
SELECTED PUBLICATIONS
Peer-Reviewed Articles and Webtexts
Reid, Lynn, (accepted). "Outsiders Looking In: Discursive Constructions of Remediation beyond the Academy." In ​Network Theories, Social Justice, and Supersystems in Writing Program Administration.​Eds. Genesea Carter​, Aurora Matzke, Bonnie Vidrine-Isbell, and Elmar Hashimov​.
Reid, Lynn. (in press, 2019). "WPA Narratives: Constructing Knowledge about Institutional Politics in​WPA Journal.​"​WPA: Writing Program Administration​. Special 40th Anniversary Issue.
Gleason, Barbara with Anita Caref, James Dunn, Eric Martinez, Lynn Reid, and Maria Vint.
(in press, 2019)"Forming Adult Educators of Language and Literacy: The Legacy of Mina Shaughnessy and Marilyn Sternglass at the City College of New York."​ ​Journal of Basic Writing.​Special Issue on Graduate Education.
Reid, Lynn. (in press, 2019)."Graduate Pedagogy and the Politics of Remediation: A Distant Reading Strategy." ​Journal of Basic Writing​. Special Issue on Graduate Education.
Reid, Lynn. (2015). "Returning Adults in the Multimodal Classroom." In ​Showcasing the Best of DMAC​Vol. 1. Eds. Cynthia Selfe, Scott Lloyd DeWitt, and Trey Conastar.
Paterson, Amy, Hancock, Nicole, and Reid, Lynn. (2014)"Developing Digital Dexterity in Basic Writers."​Kairos: A Journal of Rhetoric, Technology, and Pedagogy ​18.2.
Peer-Reviewed Book Chapters
Reid, Lynn and Nicole Hancock. (2019) "Teaching Basic Writing in the 21st Century: A Multiliteracies Approach." In ​The Archive as Classroom: Teaching with the Digital Archive of Literacy Narratives.​Eds. Michael Harker, Ben McCorkle, and Kathryn B. Comer. Computers and Composition Digital Press/Utah State University Press.
Reid, Lynn. (2017) "Digital Natives/Digital Immigrants." In ​TESOL Encyclopedia of English Language Teaching: Teacher Training and Professional Development Volume​. Ed. Gloria Park. Wiley/TESOL International.
Reid, Lynn. (2015) "The Politics of ReMEDIAtion: Multimodal Composing in Basic Writing." Strategic Discourse: The Politics of (New) Literacy Crises​Eds. Lynn Lewis. Computers and Composition Digital Press/Utah State University Press.
Proceedings
Flacks, Gabe and Lynn Reid. (2014). "NewsActivist.com: Reconsidering Community Engagement with Web 2.0." in Proceedings of INTCESS14- International Conference on Education and Social Sciences Proceedings. 1519-1525.
Let's Work Together!
Schedule Your Free 30 Minute Initial Consultation
About Us
A boutique consulting firm with seasoned academic writing professionals who can help you with all aspects of writing and researching your dissertation.
Our Services
Developing and researching your project
Drafting and writing the academic project
Breaking through writer's block
Editing and formatting the document
Managing the process
Working with a dissertation committee
Turning dissertations into articles and books
Getting published